Fine Art
Graphic Design • Illustration • Web Design • Fine Art • Resume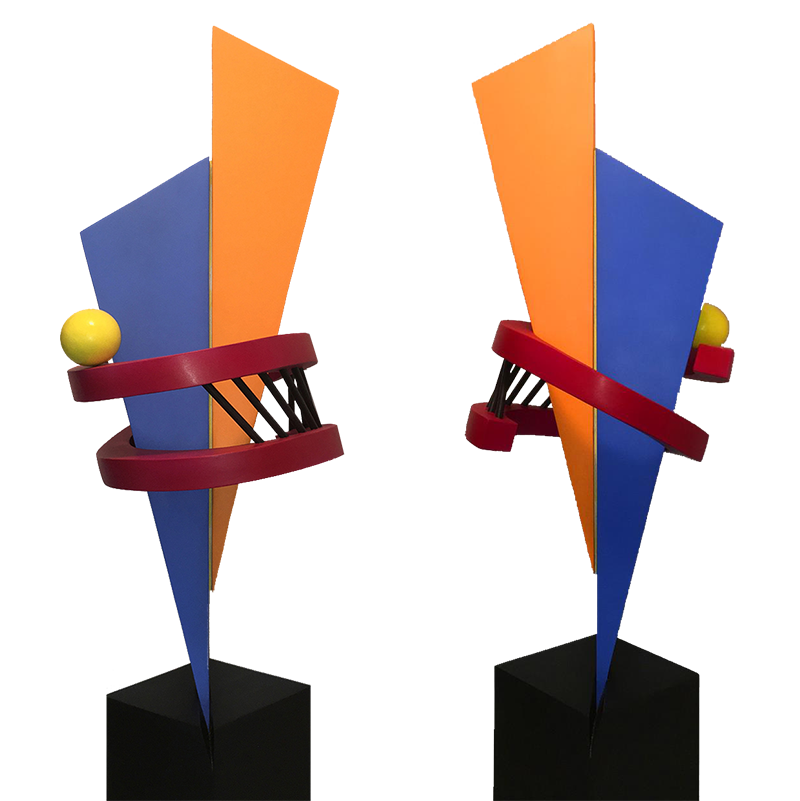 Embrace II, 2019, (2 views)
---
Hug, 2019
---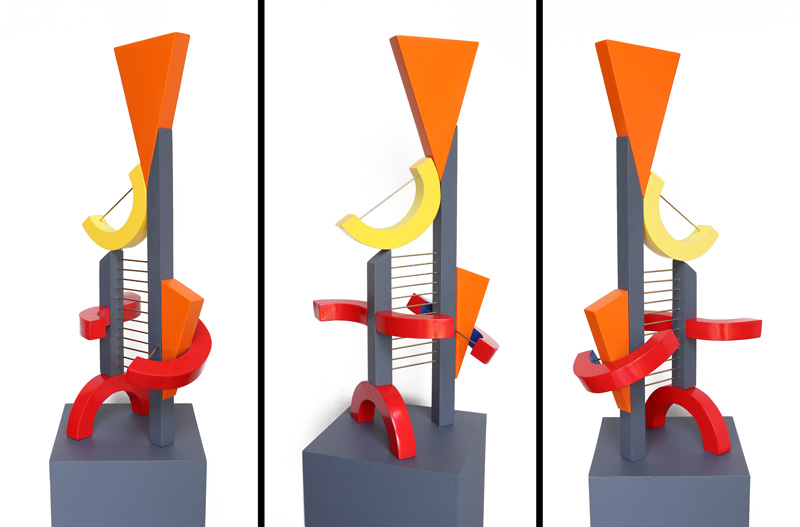 Follow Me Too, 2019
---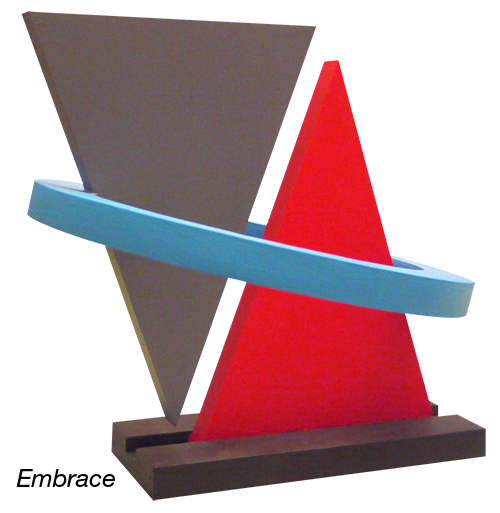 Michael has been involved professionally as a visual artist for over 35 years in the fine and commercial arts fields. Michael has a BFA from Montclair State University with continued education at the School of Visual Arts MFA program, and Electronic Design / Illustration program at Pratt Institute.
Presently he is principle of a vibrant business, Cooper Graphics and Fine Arts, which creates illustration and design primarily in the scientific fields. His fine art is created for shows, proposals and private collections for both in and outdoor spaces.  His designs have won awards and bids for large and small-scale projects.
Michael is also a creative director and production manager for an automation and control component corporation in Flemington, NJ.
Michael is versed in sculpture, painting, drawing and graphic design. He primarily works alone, but collaborates and subcontracts with other experts and companies as the individual project warrants.
Michael has worked on large-scale projects. He has worked with internationally known artists such as Charles Simonds and Christo & Jean Claude. For Mr. Simonds, he worked on a two year creation and installation of a very large sculpture for the Guggenheim Museum, NYC titled Age. He also worked with him on several outdoor pieces at Liberty State Park in Jersey City. Michael also worked on the installation team for Christo and Jean Claude's Gates project in Central Park, NYC. In the commercial field he has worked on numerous projects for corporations and universities.
For the past several years Michael has explored simple and graphic shapes in sculptures. His commercial art in many cases has to be bold and eye-catching which is accomplished by using simple designs, shapes and colors. This has served to influence his latest works in sculpture, and his recent pieces reflect those elements. These seemingly simple forms become intriguing in their positive and negative play with space, their precarious interaction with each other, and the environment around them.
A recent work, Earth Piercing (see below), is made of geometric forms and stylized nature forms meeting. It is a frame in a single moment and it is up to the viewer to add in the beginning and ending of the narrative. A front view shows the entire piece while a side view brings the piece to its simplest shape – a vertical rectangle. A triangle and arcs meet – interacting with the earth. There is ambiguity in that the triangle is coming down to pierce / split the arcs into the earth or maybe the triangle is being supported by the arcs that emerge from the earth or the triangle and arcs are possibly flowering from the earth. Michael designs the pedestals for indoor sculptures as part of the piece, choosing to incorporate the earth, existing architecture, and environmental elements as he does with outdoor designs.
Michael prefers to be a visual problem solver, considering different designs and approaches. He believes that is the way to design and to not to have one particular style that dismisses the environment. That attitude also influences his choice of the appropriate medium to select for each project.
Artwork designs continue to be his passion and his life.
Click here for newer work and recent show: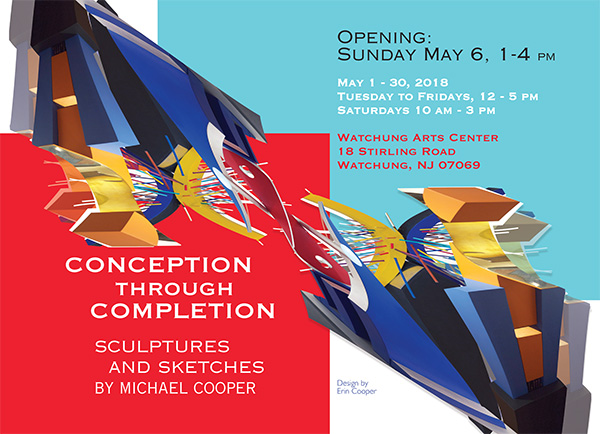 The Work: In some recent sculpture / fabrication works I use wood and metal creating simple shapes that suggest some playfulness with gravity and intersecting. Contrasting colors help accentuate certain shapes and/ or areas. Reflections add another level of depth. I want my work not to just sit on earth or a pedestal but to interact with the earth and pedestal.
---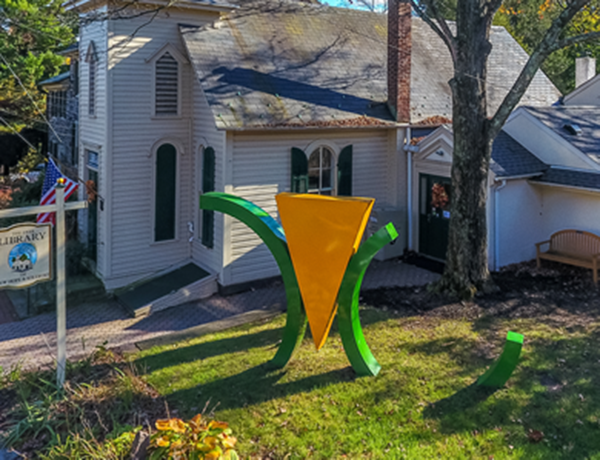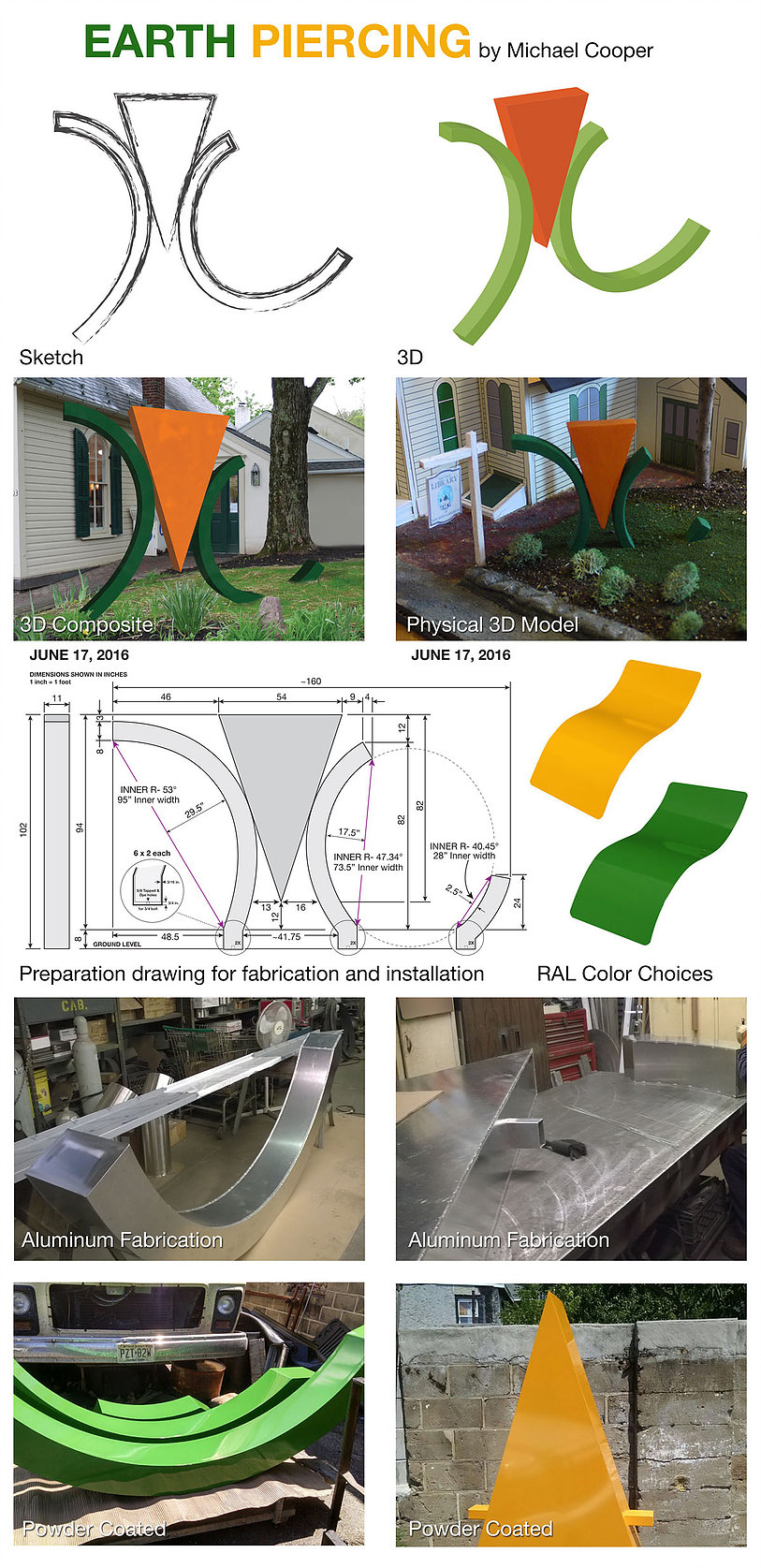 The Game, private residence
Work in progress - Hug, private residence